I don't know how you spent the hours before the January 7th 2015 storm hit Jerusalem. My regular Shiur with my daughter, Yehudis Golshevsky, took place as usual from 8:45 until 11:00 A.M.
Students kept checking the windows for signs of flakes. When the class concluded a bunch of us wandered into the matnas Lev Ha'Ir to pick up a supply of household salt to sprinkle on our  sidewalks.
I smugly opened our door. Let's see. At about 2:00PM the storm struck. It was preceded by thunder and then a wall of ice descended vertically. Extraordinary.
At the same time my doorbell rang and in walked my friend who in an earlier life-time lived in New Jersey. She arrived via the regular bus. She was covered with ice crystals.
Should she stay? Then we called her teacher and together they decided to cancel the meeting. I gently encouraged her to catch that bus, "hail it down".
Here's her story of Wednesday January 7th 2015:
"I walked over to King George and Jaffo and got the light rail to Kiryat Moshe and then walked home for a while and then a bus was coming by, so I rushed to the bus and took it.  It was a bus that never goes on this route, but did so due to the fact that it was the last run and the driver was just going anywhere to get to the bus parking lot.  The driver told me he was going to the bus parking lot and he was more than happy to help me–it is only 3 blocks from my home. Got home and was glad I was safe."
So anyone  who was on the streets  after 2:00PM today was stranded. Or maybe there was a slim chance, that you'd catch at ride. Buses did run to Gilo.
I'm no longer smug but snug at home. The storm is causing cascading ice at 10:00PM -relentlessly. The trissim are pulled down. Last year the side one was pulled off and crashed to the ground. No windows except for a few to peer out at the storm. A really tight ship.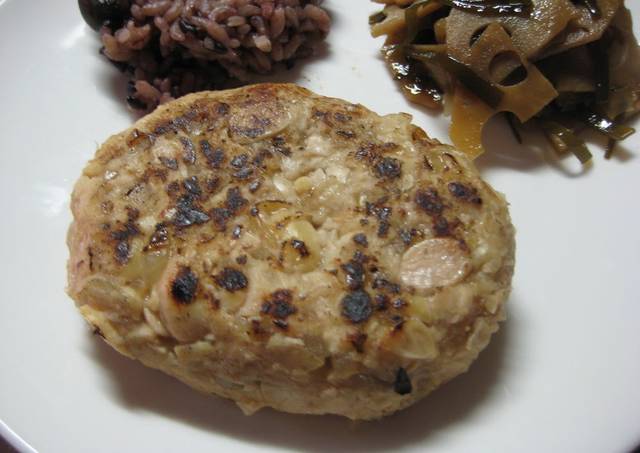 Macrobiotic Soybean Hamburger Patties
I thought of this when the craving for hamburger patties struck. What is a good substitute on a macrobiotic diet? Since this hamburger patty is seasoned quite lightly, it actually has the natural flavor of soybeans to it. It might be good to serve with a mushroom sauce.
500  grams parboiled soybeans/very soft or tempeh steamed in a double boiler over broth consisting of half the vegetables in the recipe.
3 onions
2 grated carrots
2 stalks celery sliced small
2 tablespoons flax meal plus 2 Tablespoons buckwheat flour/adzuki bean flour
2 tablespoons  ground almonds
1 tablespoons oil
white bean miso
Directions:

Soybeans take a long time to prepare. They should be soaked in the same way that sprouts are treated-  soaked over several days and then cooked in a pressure cooker with Kombu for 35-55 minutes, over a heat defuser.

Good Idea: make extra soybeans and have for several portions for soup and a mixed soy bean/adzuki bean chumus. If using tempeh, it should be steamed in a double boiler with grated carrots, celery and stock in the lower container (using half the vegetables listed in the recipe)

For the burgers, mince the remaining onions, carrots and celery and sauté in an oiled frying pan until the onion has wilted.

Add all of the ingredients and use a pestle, etc, to mash them up while mixing or mix with an immersion blender very briefly. Add white bean miso to taste.

Once the soybeans have been generally mashed up, make your hamburger patties and cook both sides in an oiled frying pan until browned 180 or bake on a baking paper at 180 C.

Once both sides have been browned, place in a glass baking dish. Add 4 tablespoons or more of broth from the  steamed tempeh or water (not listed); cover with a lid, and steam cook for 3 minutes. Then you're done!