Turning your closet into a treasury.
In a prior post, I described a choice that I made NOT to shop for a new dress,  because, I have everything that I need.

And you do too.

To prove that point, I  fished around for a project. You will see  a photo of the original jacket. The dicky by the neck gives the jacket away as "out of style". I have made men's trousers  skirts, but never took apart  a ladies jacket. Certain features made the jacket a good candidate.
1) A full lining
2) Eight panels resembling the gores of a skirt. There is a lot of work to create that. If the jacket was just straight I would have passed on it. The jacket fit around me when it was lowered into a skirt position. Using a dummy makes the job easier.
3)Interesting details, like the circular velvet around the bottom, unique buttons, velvet pockets.
Passing photos from my phone to my blog is not 100% yet. Patience, patience.
4) Made from simple wool material as it is  necessary to  piece fabric together, the n the added seams will not be noticeable.
5) Enough material in the sleeves to make waistband, inserted pleat and facings.
The final skirt
DUQQA-Looks delicious
3/4 cup whole sesame seeds, 1/2 cup hazelnuts, 1 heaping tablespoon cumin seeds, 1 heaping tablespoon coriander seeds, 1 teaspoon thin sea salt, 1/4
teaspoon ground black pepper. Grind together.
AND:
Orange Marmalade; A friend gave me several kilos of oranges. Holding on to them is just not possible.
Merely, removed the peels and seeds. Left in the flesh, juice and sme peel of all the oranges and a lemon.
Put the batch in the pressure cooker. Honestly after about 10 minutes, I opened the lid and tasted the orange peel that I had placed inside. Ouch, was the batch  bitter?
I then checked  a few sites (why not before), and the pressure cooker recipe called for cooking the oranges WHOLE. Didn't want to try that.
With a grateful heart, the concoction was cooked another hour on top of the stove, until the pectin came out of the peel, and the solution thickened. Then slowly at intervals added coconut sugar until the surface changed.
I did turn the heat up and briefly boiled the marmalade rapidly until it reached setting point – a sugar thermometer will be helpful here (start checking when it reaches 104C) but to confirm this, put a teaspoonful of the marmalade on to a cold saucer and put in the fridge for a minute or so. If it crinkles when you run a finger through it, and your finger leaves a clear line in the preserve, it's ready. If not, check it every five minutes or so. I saw mine get crinkly on the stove. I didn't use a thermometer.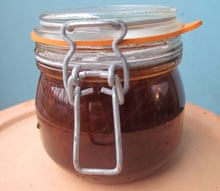 Allow to sit for 15 minutes then spoon into clean jars and seal immediately. Today, the jelly is cold and absolutely delicious. Now I have orange conserve for my family and friends.