The following is old winter news, written during a visit to  America. Reading it over now just reinforces my feelings of joy at returning to Israel. The Haitus rekindled my knitting interest.
Now guys out there, please refrain from pressing that delete button. Starting up where one left off in fine manual skills is easy. 90 ear olds are puttering, sculpting in wood.  Following a plan.
It has been 65 years since I learned to knit. Guys and gals, did you make yards of intestinal shaped knitted looking snakes that jumped out of the center of wood spools ringed with nails on top?
I collected spare wool yarn from my neighbors and my father (O.B.M.) taughtt me to "snake knit" working across a nail-studded empty thread wood spool that he punched 6 nails into. By pulling wool across the nail and looping it, a knit stitch was created at every nail.
We called the result a useless snake. This effort was boring. Can't remember the working implement,  a paper clip?
Before that, my father (O.B.M.) set up bleached bland potholder loops across a red metal frame. That was a loom.  A  metal hook came in the loom box to loop up and over the loops.
That loom was primitively slow just like doing embroidery.  My stash of spare wool yarn grew. Not off the subject of knitting is squirreling away bales of wool or craft supplies for that future project. Knitters can't suffer to part with the ghosts of years past. Woven into those masses are dreams and hopes.
During that last trip, my knitter aquaintances met around a table in an old bank converted to a knitting "studio". That's what a yarn shop is called today. A lady, in her 80's had moved from Chevy Chase to an Independent Living Facility. her downsizing from a huge home to 3 rooms.  She admitted her yarn stash is concealed in her breakfront. Come to think of it, a good place to hide some cash.
Her project was patchwork squares.
The local girl's yeshivah has a knitters group. Did she think of giving her pile to a good cause? She took the information to connect with the school.
At about 10  mom taught me how to knit.  My older brother is wearing a vest of hers in a photo,  She introduced me to a yarn shop where we bought multicolored thread and cross stitch patterns.  That's where at 15 years of age, my first 4-ounce skeins from giant cartons were purchased in a shop on Rutland Road in Brooklyn.
Thirty years later, my greatest satisfaction didn't derive from a  plain wool sweater that I I knitted, but rather that I was able to follow the instructions. The color choices were limited to maroon, charcoal grey, black and bottle green.  There were no knitting magazines at that time.
The owner of the knitting shop was shown a photo from Seventeen magazine and after a few  crucial examining minutes added numbers to a crude outline for cast on, cast off, and rows. I liked that every few lines a number was in brackets to indicate the exact number of stitches remaining on the needle. That way I knew that I was  correctly following her handwritten instructions.
The following is my first American project. Each wool skein change colors. In other words, it is variegated. The border is Angora. There is a collar, while the instructions did not call for a collar. This was risky, but the instructions left me no choice. There was a lack of detail in the instructions.  No written roadmap in brackets. The yarn is magnificent but not forgiving about being ripped out. My collar is in a different place than in the instruction photo.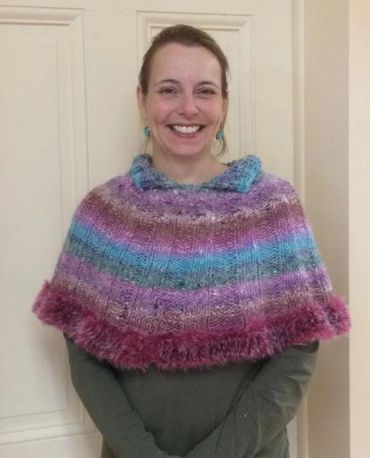 Cheryl is from the Knitting circle.
Svetlana's Shop: in Sandy Spring Maryland: https://sooriginal.com/
The photos of the woman proudly showing off their handiwork is charming. I prefer to have the work speak for itself. Svetlana has many devoted students. Hopefully, her site will expand the business.
The idea of knitting a cape only occurred to me when temperatures tumbled in Silver Spring Maryland. The above one is upside-down. Svetlana"s wool was replaced by scraps.  Above is the result..This is so dazzling. The yarn comes colored throughout. No need to change yarn. The bottom photo is a cape that a friend knitted. Working on circular needles opens up endless possibilities. 
The last image and the one at the top differ in the color range.  Svetlana is a master of color. Observe the forest green used twice and in mine, the grey is used twice in the first. Notice the cape with a maroon color repeated earlier in the post.
This is very much the method of a landscape painter, juxtaposing one color against another.
In the above: What started out as a baby blanket became a bolero jacket.  The last is a cape using a "Brioche" stitch that I learned from Svetlana. I didn't use the Noro yarn, which costs close to $50.00 for my first cape.

All of my creations have come in handy as we are experiencing a lengthy wet winter preceding a glorious Spring.
Following are announcements concerning  Jerusalem Events:
Culture Under the House
The event will take place next Thursday, 3/5, between 17: 30-19: 00 in the central park at the HaMikabat (Justice Haim Cohen Street).

Next Culture Below Events:
On Wednesday, 9/5, at the Grove Garden in the Talpiot-Arnona neighborhood (4 Barzilai St.).
On Wednesday, May 16, at Gidon Park in the Baka neighborhood (where the event was postponed on 11/4).
On Wednesday 23/5, in the community garden at Makor Haim (Ben Dov Street).

We will be happy to see you in pleasant spring weather,
Community Council of Greater Baka

Contact:
מינהל קהילתי בקעה רבתי, יששכר 3, בקעה, ירושלים
טל: 02-6734237 02-6733485 (שלוחה 0) פקס: 02-6718291

פייסבוק   baka@matnasim.org.il



Reb Yehuda Katz will be joining us in song along with words of Torah with Reb Leibish Hundert
Pesach Sheni is all about second chances. Bring some matzos, some wine, and a story or dvar Torah about a second chance, about never giving up.
*This event is open for men and women ~ bring all of your closest friends!
"Moe" Berg: Sportsman, Scholar, Spy
 https://www.cia.gov/news-information/featured-story-archive/2013-featured-story-archive/moe-berg.html
Morris "Moe" Berg, a professional baseball player who also served his country as an intelligence officer, lived a life many can only dream of. A true Renaissance man, Berg graduated from Princeton University, passed the New York State bar exam and learned eight languages.
After graduating from college in 1923, Moe played 15 seasons of major-league baseball as a shortstop, catcher and coach. Pictured are his cards as coach of the Boston Red Sox in 1940 and as catcher for the Washington Senators (from 1932 – 34).
Mixing Baseball and Intelligence
Berg's entrance into the field of intelligence began when he, Babe Ruth, Lou Gehrig and other baseball greats formed an all-star team and traveled to Japan in the mid-1930s for exhibition games. Proficient in Japanese, Berg talked his way into one of the tallest buildings in Tokyo. He climbed to the rooftop alone and used a movie camera to film the capital city's shipyards. Reportedly, the US used Berg's footage to plan bombing raids over Tokyo in World War II.
OSS Intelligence Career Highlights
Following the attack on Pearl Harbor in 1941, Berg initially joined the White House's new Office of Inter-American Affairs but left for the Office of Strategic Services (OSS) in 1943. He became a paramilitary officer and carried out various intelligence operations in Europe, including parachuting into Yugoslavia to evaluate resistance groups there.
By 1945 Berg had been tasked to determine whether Nazi Germany was close to having a nuclear weapon.  Using his language skills and charm, he managed to locate and chat with Werner Heisenberg, a top physicist in the Third Reich. Berg accurately determined that the answer was "no."
Berg stayed with the OSS until it dissolved in 1945. Afterward, he served on the staff of NATO's Advisory Group for Aeronautical Research and Development.
A Word from Berg Before his death in 1972, Berg said, "Maybe I'm not in the Cooperstown Baseball Hall of Fame like so many of my baseball buddies, but I'm happy I had the chance to play pro ball and am especially proud of my contributions to my country. Perhaps I could not hit like Babe Ruth, but I spoke more languages than he did."
The baseball cards pictured here are held in the CIA Museum's collection.